Published on 28 May 2020. This is approximately 54 minutes long. This episode is sponsored by Anchor.fm.
Overview
In this episode we talk about how to build, and manage a remote team. We share some of the challenges we've had over the past three years, as well as tips on how to be successful with your new remote work style. You won't learn to be a mind reader, but this episode will help you improve communication channels and make it look like you can read minds!
Additional timing information will be added as we have a chance to review.
Listen on Anchor.fm
Listen on Spotify
Watch on YouTube
Show Notes & Selected Links
Remote Team management
General remote work topics!
What do you look for in a remote candidate
How do you find autonomous, self driven people?
How do you track the work being done?
Be present in your life.
How long was it before Imran and Steve met in person?
It was nearly 8 months before we met. Our relationship was built over phone calls, video calls, and our virtual World.
Twenty two hour day
Global presence, with product activity going on nearly 24 hours a day.
Set expectations for online presence
Can you use the "green link / active" for managing?
If the indicator is green, the person must be working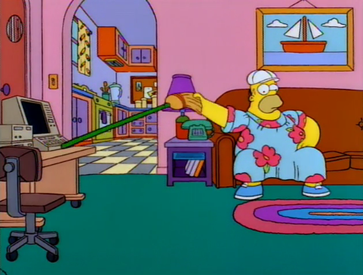 Once again, the Simpsons see the future! Homer works from home in The Simpson's Season 7 Episode 7, which of course leads to a meltdown
Is the time of day important?
Do you have to be at your desk at 8:30?
How do we Measure Success
It's not about how many hours you're at your desk
It's not about when you're at your desk
Be an adult.
Be present for the most important task.
If you can't trust your people to do their job from home, why hire them in the first place?
Make the most about any travel you do.
Find a way to meet with remote people when you're in the same area.
Ways to build a team when you're remote. You have to make an effort
Developer Rodeo and Team Rodeo events
Remote work playbook; we've been building over time
Use these meetings to have teams present to each other, and spend the time learning something.
Do you have to mimic the 9 - 5 schedule of the traditional office?
How do you make timezones work for you?
How do you reduce the anxiety of a busy work and home life?
Block out time on your calendar to get work done
Learn the Get "stuff" Done Method
Be present in your daily life.
Go to a doctor's appointment
Go to a school event (when we're at school)
Set expectations and communicate with the team
Create the culture which allows the team to do the things which can only be done during the day.
Focus on delivery
Track the work being done
Manage by walking around (add link)
How do you manage the day for a team member?
The "list of things" comes from the project the team member is working on
Talking about tracking the work being done
Don't watch for commits
Create the right amount of touchpoint to keep everyone on the same page
Create a culture which allow for failure
Don't focus on the number of hours a task will take
Figure out how to deliver the product, feature, task, as best as possible
Include demos, feedback, review
Imran and I both use Sunsama to manage tasks and keep track of projects.
How do you know people are making progress
Are the folks working on a project asking questions, or performing demos?
If they're not asking any questions, that's a tell … they may be having issues
A quick story about a failed Proof of Concept project
For managers, with remote people - communicate
More communication with each resource will make things a lot better
What can managers do to make sure people are engaged?
One of our biggest fears in working remote? How will I manage the team, and the work to be done?
Developer / resource velocity
Conversations with the developers and the teams will give you insight into the progress and how well the team is functioning.
30 min: Development is a creative process
Domain driven design - questions about how this works is a great indicator of how the developer is doing.
Rule 3: If you have a problem, let's talk about it.
Don't spend 8 hours on a problem, try an hour, then talk about it?
Facial features, body language, mind reading
You need to focus on communications in a remote environment, you probably can't read minds!
33 min: What happens if I don't deliver?
Don't let pride get in the way of being successful
Ego is the Enemy by Ryan Holiday
Access to talent around the world
The remote work allows us to have the best people, not only the best people proximal to my office
36 min: Origins of the Architect and the Executive podcast
Collaboration based on various viewpoints ends up with a better final product
How do you incorporate the high level and the detail level of a solution
Get together and work together
Schedule time to review and have conversations
Be willing to create a version of your work, and let it go
Ask for feedback, incorporate other inputs
Create intentional interactions to get help, and ask for feedback
41 min: We use the debate to best solve our challenges
Structure of one on one meetings
When you're remote, you have to find a substitute for "lets go to lunch" -Find time to get to know the people around you, and get away from operational, task driven conversations
Make sure you live your principles, and be open to feedback.
48 min: Be approachable, have an open door policy
Foster strong relationships, be open to feedback
Be accountable for yourself
Talking about 20 questions, and having a shared context
50 min: Incorporate different view points, and various levels of information, to make the best decisions
51 min: Key take aways
Set your expectations
Be willing to engage
Be present
When you're working, focus on working
As a manager, set the culture
It takes a team to make this work
---
Disclaimer: Some of the links provided are affiliate links meaning, at no additional charge to you, The Architect and the Executive may earn a commission if you make a purchase.